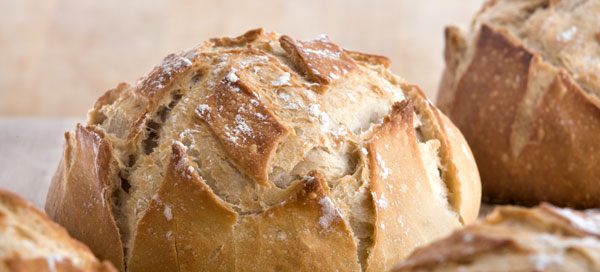 Sourdough

This is bread worth savoring. The even and slightly cracking crust has a perfect crunch.
The dense bread, which is made from a starter (culture) that dates to 1993, is moist with the subtle sour taste that may remind you of San Francisco. Be sure to slow down and take a moment to enjoy Sourdough's aroma. Try it next to your favorite bowl of hot or cold soup.
Serving Suggestion
Sourdough is great for sandwiches and serving with meals.
Also Perfect for
Toasting
Sandwiches
Passing with dinner
Using in recipes
Snacking
Serving at a festive occasion
Gift giving
Serves 4
Recipe:
Ham and Pear Crisp
Adapted from Roadfood Sandwiches by Jane and Michael stern, Hell's Kitchen, Minneapolis, Minnesota
1 small can 15 ounces sliced pears in syrup
8 slices Breadsmith Sourdough
Spiced butter (recipe follows)
4 slices Swiss cheese
1 ¼ pounds shaved ham
4 slices Fontina cheese
Drain the pears in a small strainer. Slice the pears into thin slivers and set aside. Lay out the 8 slices bread and spread each with a thin layer of the spiced butter, using only about half the butter. On each of the 4 slices, place 1 slice of Swiss cheese and about ½ inch pile of shaved ham. Divide the sliced pears among the 4 sandwiches and top each with a slice of the Fontina cheese. Place the remaining slices of sourdough on top, and press together gently to compress the sandwiches. Spread the remaining spiced butter on the outside of the bread.
Heat a large, heavy skillet over medium-high heat. Place the sandwiches in the skillet in batches if necessary and cook for approximately 7 minutes or until brown and crisp. Using a spatula, turn the sandwiches over and cook for another 7 minutes. For ease of eating, cut each sandwich in half on the diagonal.
Spiced butter
Makes ½ cup

2 sticks unsalted butter, softened
2 teaspoons pumpkin pie spice
1 teaspoon ground coriander
1 teaspoon ground ginger
1 teaspoon kosher salt
Nutrition Information for Sourdough
Ingredients: unbleached-unbromated wheat flour, water, sourdough starter, salt
Serving size: 1/2" slice
120 calories
0 g total fat
220 mg sodium
24 g carbs
0 g fiber
0 g sugar
4 g protein
Serving size: 1 roll
240 calories
1 g total fat
470 mg sodium
51 g carbs
0 g fiber
1 g sugar
8 g protein

Sourdough is available every day in Edina, Minnetonka and St. Paul.