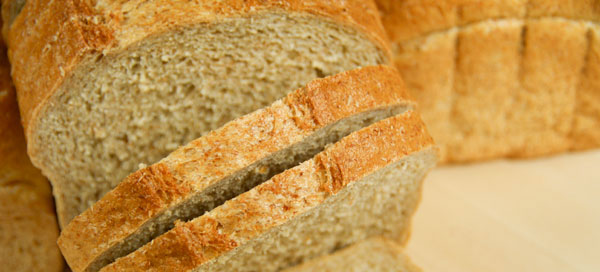 Honey Wheat

This classic bread includes whole wheat flour, oats and bran.
A touch of honey rounds out the flavors. Because it is light in texture, kids love it. If whole grain breads are too intense for your kids, this is a good alternative.
Serving Suggestion
Honey Wheat is versatile. It makes great toast and sandwiches.
Also Perfect for
Toasting
Sandwiches
Passing with dinner
Using in recipes
Serves 4
Recipe:
Goat Cheese and Vegetable Sandwich
Adapted from MarthaStewart.com, Everyday Food
8 slices Breadsmith Honey Wheat
4 teaspoons extra-virgin olive oil
4 ounces fresh goat cheese
1 medium red beet, scrubbed, peeled and shredded (1 cup)
2 large carrots, shredded (1 cup)
1 pear, quartered, cored and thinly sliced
2 cups arugula
2 teaspoons fresh lemon juice
½ teaspoon salt
¼ teaspoon pepper
Brush 1 side of each bread slice with ½ teaspoon of the oil. Spread ½ ounce goat cheese on the other side of each bread slice. Layer beet, carrots, pear and arugula on the cheese side of 4 slices. Drizzle with lemon juice and sprinkle with salt and pepper. Top with remaining slices of bread, cheese side down.
Heat large nonstick skillet over medium heat. Working in two batches, cook sandwiches, pressing gently on tops with a spatula, until golden brown, 3 minutes per side.
Nutrition Information FOR HONEY WHEAT
Ingredients: unbleached-unbromated wheat flour, water, whole wheat flour, oats, honey, bran, salt, yeast
Serving size: 1/2" slice
140 calories
1 g total fat
230 mg sodium
30 g carbs
2 g fiber
4 g sugar
5 g sugar
Serving size: 1 roll
280 calories
1.5 g total fat
470 mg sodium
60 g carbs
4 g fiber
8 g sugar
10 g protein

Honey Wheat is available every day in Edina, Minnetonka and St. Paul.