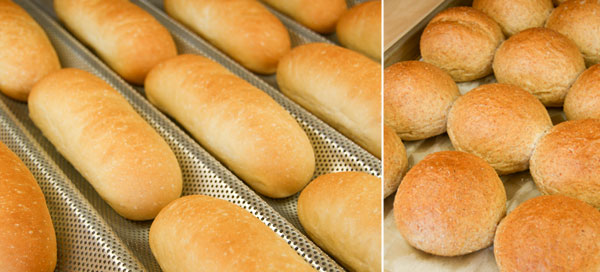 Brat and Sandwich Buns

Breadsmith Sandwich and Brat Buns are a great addition to your menus—particularly when you're grilling or barbequing.
The buns are made with the same dough as our Honey Wheat and Honey White breads. The bread is substantial enough to stand up to whatever you put on it without overpowering the sandwich. See the difference our Brat and Burger Buns make.
Serving Suggestion
These are a must-try for your grilling fare. Brats, hot dogs, burgers, veggie burgers, chicken sandwiches—the options are endless.
Also Perfect for
Sandwiches
Using in recipes
Serving at a festive occasion
Serves 6
Recipe:
Fresh Mozzarella, Herb and Tomato Stuffed Beef Burgers
Adapted from Martha Stewart Living, June 2005
3 pounds ground beef, preferably chuck
Coarse salt
1 ½ teaspoons freshly ground pepper
3 ounces thinly sliced fresh mozzarella
1 tablespoon chopped fresh herbs such as oregano or basil
12 grape tomatoes, halved
Vegetable oil, for brushing grill
6 Breadsmith Burger Buns (Wheat or White)
Using your hands, combine beef, 3 teaspoons salt and the pepper in a bowl and shape into 6 balls. Scoop a heaping tablespoon from the center of each; reserve.
Fill each burger with ½ ounce mozzarella, ½ teaspoon herbs and 4 tomato halves. Press the reserved meat over the filling, pinching to seal. Gently flatten into patties, about 5 inches in diameter. Cover and refrigerate until cold, about 1 hour.
Preheat grill to medium-high (if using a charcoal grill, coals are ready when you can hold your hand 5 inches above grill for just 3 to 4 seconds). Brush grill grates with oil. Grill for about 10 minutes per side, flipping once, for well done. Toast buns if desired.
Serve burgers topped with lettuce.
Nutrition Information FOR Brat and Sandwich Buns
Visit the bakery, or view packaging, for calories counts and nutrition panel information. The ingredients are the same as the recipe used for loaves such as Honey Wheat and Honey White breads.

Sandwich Buns (wheat and white) and Brat Buns (white) are available every day in Edina, Minnetonka and St. Paul.