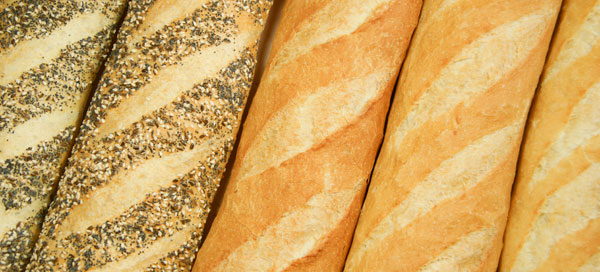 French Baguette
and Ficelle

The exterior is crusty and golden. The interior is soft and chewy with an open crumb texture.
Available in traditional or petite size this most classic of breads has a great balanced, mild flavor and can be served in many ways. We also bake Ficelle, which is like a Baguette but crustier. Periodically youíll also see Seeded Baguettes in the bakery. Try a sample next time youíre in!
Serving Suggestion
Itís great for making crostini, bruschetta or just slicing on the diagonal and having it on the side with dinner.
Also Perfect for
Sandwiches
Passing with dinner
Using in recipes
Serving at a festive occasion
Gift giving
Serves 6
Recipe:
Baked Baguette with Lemon-Garlic Butter
Adapted from epicurious.com, Bon Appetit, August 1999
Ĺ cup butter, room temperature
2 tablespoons chopped fresh parsley
3 garlic cloves, pressed
1 teaspoon grated lemon peel
1 Breadsmith French Baguette, cut crosswise into 1
inch-thick slices
In a small bowl, blend butter, parsley, garlic and lemon peel. Season with salt and pepper to taste. Spread evenly over 1 side of each bread slice. Reassemble bread slices; wrap in foil. Place on baking sheet. Preheat oven to 300į. Bake until heated through (about 20 minutes). Serve warm.
This can be made up to 8 hours ahead; chill after wrapping in foil.
Nutrition Information for French Baguette
Ingredients: unbleached-unbromated wheat flour, water, salt, yeast
Serving size: 1/10 baguette
140 calories
0 g total fat
320 mg sodium
29 g carbs
0 g fiber
0 g sugar
5 g protein
Serving size: 1/6 petite baguette
150 calories
0 g total fat
340 mg sodium
31 g carbs
0 g fiber
0 g sugar
5 g protein
Serving size: 1/6 ficelle
120 calories
0 g total fat
280 mg sodium
26 g carbs
0 g fiber
0 g sugar
4 g protein

French Baguette and Ficelle are available every day in Edina, Minnetonka and St. Paul.