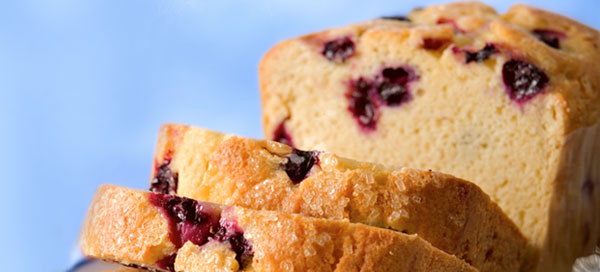 Lemon Blueberry Bread
and Muffins

We use fresh—never frozen—blueberries. We bake with Michigan-grown blueberries for most of the season because they are the best blueberries available.
As you may know, lemon is a classic ingredient in blueberry pie recipes. Why? Lemon and blueberry complement each other wonderfully, enhancing the overall flavor. We took that principle to our Lemon Blueberry Bread and Muffins. This light bread has the perfect balance of tart lemony flavor and sweet bursts of juicy blueberry. You'll love the cake-like texture with the crunch of sanding sugar on top.
Serving Suggestion
This bread looks as great as it tastes. Proudly display it with your brunch buffet or bring it to the office to share.
Also Perfect for
Brunch
Snacking
Bringing to the office
Serving at a festive occasion
Gift giving
Nutrition Information for Lemon Blueberry
Ingredients: unbleached-unbromated wheat flour, granulated sugar, fresh blueberries, cage free eggs, margarine, organic soymilk, lemon juice, baking powder, lemon extract, vanilla, baking soda, salt
Serving size: 1/2" slice
190 calories
6 g total fat
250 mg sodium
31 g carbs
0 g fiber
17 g sugar
4 g protein
Serving size: 1 muffin
530 calories
16 g total fat
700 mg sodium
86 g carbs
1 g fiber
46 g sugar
10 g protein

Lemon Blueberry Bread and Muffins are made early June–August.
When in season, this bread is available every day. Check the bread schedule in Edina, Minnetonka and St. Paul for availability.