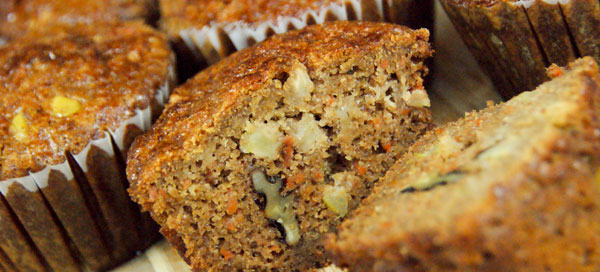 Honey Carrot Pineapple Muffins

Honey Carrot Pineapple muffin is hearty and sweet—a great way to start the day!
It is sweetened with honey and spiced with cinnamon, nutmeg and mace. It has chunks of fresh apple and pineapple. The walnuts and grated carrot will remind you of carrot cake. It's nutritious and delicious.
Serving Suggestion
Also Perfect for
Brunch
Snacking
Bringing to the office
Nutrition Information for Sunrise Muffin
Ingredients: honey, unbleached-unbromated wheat flour, non-GMO canola oil, fresh apples, fresh carrots, whole wheat flour, cage free eggs, fresh pineapple, walnuts, baking soda, baking powder, salt, cinnamon, nutmeg, mace
Serving size: 1 muffin
580 calories
32 g total fat
930 mg sodium
70 g carbs
4 g fiber
33 g sugar
9 g protein

Honey Carrot Pineapple Muffins are made January.
When in season, this bread is available every day. Check the bread schedule in Edina, Minnetonka and St. Paul for availability.