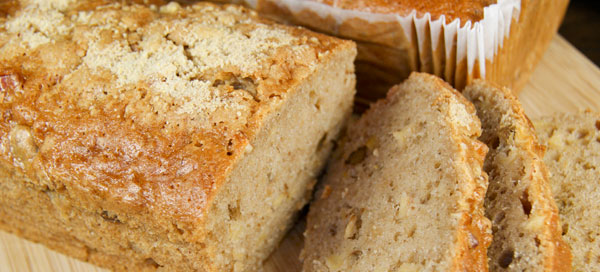 Apple Cinnamon Bread and Muffins

When it comes to fall, there is no more classic combination than apples and cinnamon.
This bread is a well-rounded fall treat. The bread that stays extra moist from the addition of unsweetened applesauce. We use local Haralson apples because they are juicy, tart and crisp—perfect for baking!
Serving Suggestion
As a loaf, muffin or mini muffin, this bread is a crowd-pleaser.
Also Perfect for
Brunch
Snacking
Bringing to the office
Serving at a festive occasion
Gift giving
Nutrition Information for Apple Cinnamon Bread
Ingredients: unbleached-unbromated wheat flour, apples, granulated sugar, non-GMO canola oil, cage free eggs, unsweetened applesauce, baking powder, cinnamon, nutmeg. Topping: brown sugar, unbleached-unbromated wheat flour, margarine, cornmeal, cinnamon
Serving size: 1/2" slice or 1/3 muffin
170 calories
8 g total fat
50 mg sodium
23 g carbs
1 g fiber
13 g sugar

Apple Cinnamon Bread is made in September.
When in season, this bread is available every day. Check the bread schedule in Edina, Minnetonka and St. Paul for availability.