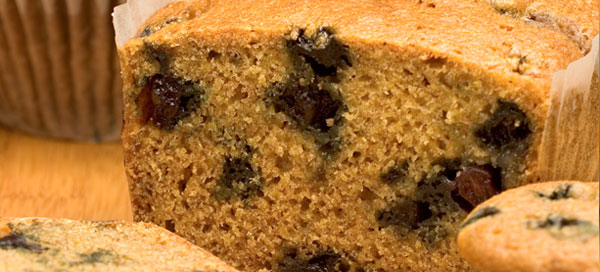 Sweet Cornbread and Muffins with Fresh Blueberries

This bread features fresh blueberries that burst with flavor. The cornbread has the trademark granular texture and is sweetened to complement the blueberries. It will remind you that it's the simple joys that really matter.
Serving Suggestion
Sweet Cornbread with Blueberries makes a great presentation at a brunch buffet. It is also available as muffins and mini muffins.
Also Perfect for
Brunch
Snacking
Bringing to the office
Serving at a festive occasion
Gift giving
Nutrition Information for Sweet Cornbread with Fresh Blueberries
Ingredients: organic soy milk, unbleached-unbromated wheat flour, fresh blueberries, granulated sugar, cornmeal, whole wheat flour, margarine, organic eggs, baking powder, vanilla, baking soda, salt
Serving size: 1/2" slice or 1/3 muffin
140 calories
5 g total fat
170 mg sodium
21 g carbs
2 g fiber
7 g sugar

Sweet Cornbread with Blueberries is made for a limited time in the summer.
Check the bread schedule in Edina, Minnetonka and St. Paul for availability.