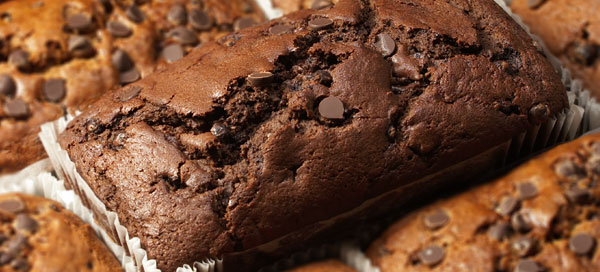 Chocolate Chocolate Chip Bread and Muffins

Can't get enough chocolate? Try our Chocolate Chocolate Chip Bread and Muffins.
It has chocolate chips, cocoa and even chocolate extract to satisfy even the most devoted chocolate fans. It's great for a special occasion or everyday enjoyment. You'll love the velvety texture and smooth chocolate taste. Love it even more when we shape the bread into heart-shaped loaves and add raspberries for a few days in mid-February.
Serving Suggestion
Our Chocolate Chocolate Chip Bread has incredible full chocolate flavor. Try it on its own or with a dollop of whipped cream or scoop of vanilla ice cream.
Also Perfect for
Snacking
Bringing to the office
Serving at a festive occasion
Gift giving
Nutrition Information for Chocolate Chocolate Chip Bread
Ingredients: unbleached-unbromated wheat flour, granulated sugar, semi-sweet chocolate chips, unsweetened applesauce, cage free eggs, non-GMO canola oil, organic soy milk, cocoa, chocolate extract, baking powder, salt, vanilla, baking soda
Serving size: 1/2" slice
240 calories
9 g total fat
170 mg sodium
38 g carbs
1 g fiber
22 g sugar
5 g protein
Serving size: 1 muffin
720 calories
27 g total fat
490 mg sodium
114 g carbs
4 g fiber
66 g sugar
13 g protein

Chocolate Chocolate Chip Bread is made January–February.
When in season, this bread is available every day. Check the bread schedule in Edina, Minnetonka and St. Paul for availability.