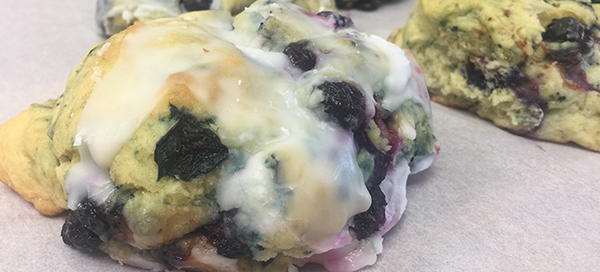 Blueberry Scone

We use our classic scone recipe and fold in a generous amount of fresh blueberries. You'll appreciate the bright and sunny flavor.
For much of the season, Breadsmith sources the blueberries from Michigan, which has the best blueberries available. Try it with or without icing.
Serving Suggestion
A wonderful breakfast treat!
Also Perfect for
Brunch
Snacking
Bringing to the office
Gift giving
Nutrition Information for Blueberry Scone
Ingredients: unbleached-unbromated wheat flour, fresh blueberries, organic soy milk, margarine, granulated sugar, organic eggs, baking powder, salt, baking soda
Serving size: 1 mini or 1/2 scone
300 calories
11 g total fat
350 mg sodium
40 g carbs
2 g fiber
12 g sugar

Blueberry Scones are made early June–August.
When in season, the scones are available every day. Check the bread schedule in Edina, Minnetonka and St. Paul.