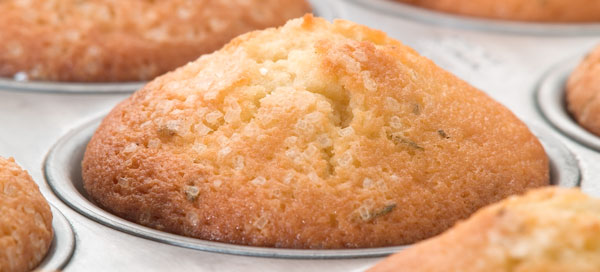 Lemon Lavender Bread and Muffins

Bright lemon and flowery lavender meld in this delicious and fragrant bread. The flecks of fresh lavender provide a nice undertone to the refreshing citrus taste.
The tender, spongy texture is offset by a sprinkle of sanding sugar on the top, adding just the right crunch.
Sometimes people are surprised to hear of lavender as an ingredient in our Lemon Lavender Bread and Muffins. But the reality is lavender has been used in sweet and savory dishes for centuries. It's most widely recognized in the herb blend Herbes de Provence. It tastes as wonderful as its aroma! Try a sample of Lemon Lavender next time you're in—and see why it's a springtime favorite.
Serving Suggestion
Also Perfect for
Brunch
Snacking
Bringing to the office
Serving at a festive occasion
Gift giving
Nutrition Information for Lemon Lavender Bread
Ingredients: unbleached-unbromated wheat flour, granulated sugar, cage free eggs, margarine, organic soymilk, lemon juice, baking powder, frsh lavender, lemon extract, vanilla, baking soda, salt
Serving size: 1/2" slice
220 calories
7 g total fat
220 mg sodium
36 g carbs
0 g fiber
18 g sugar
4 g protein
Serving size: 1 muffin
610 calories
20 g total fat
590 mg sodium
97 g carbs
0 g fiber
49 g sugar
10 g protein

Lemon Lavendar Bread is made March–May.
When in season, this bread is available every day. Check the bread schedule in Edina, Minnetonka and St. Paul for availability.