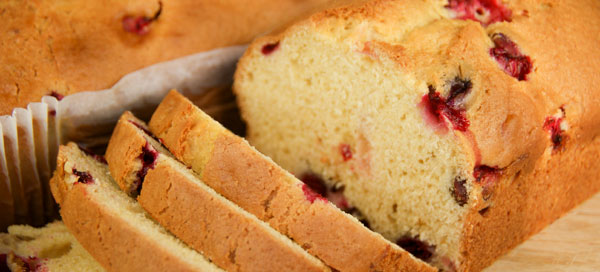 Cranberry Orange Bread
and Muffins

Sweet with a touch of zing, Cranberry Orange Bread is refreshing.
It's made with fresh cranberries, orange juice and orange zest for full flavor. The cranberry provides a pretty contrast of color in the golden bread. Give it a try!
Serving Suggestion
Kids enjoy the sweet orange flavor with the cranberries.
Also Perfect for
Brunch
Snacking
Bringing to the office
Serving at a festive occasion
Gift giving
Nutrition Information for Cranberry
Orange Bread
Ingredients: unbleached-unbromated wheat flour, orange juice, granulated sugar, cranberries, margarine, organic eggs, baking powder, orange peel, baking soda, salt
Serving size: 1/2" slice or 1/3 muffin
140 calories
4.5 g total fat
140 mg sodium
23 g carbs
1 g fiber
11 g sugar

Cranberry Orange Bread is made November–December.
When in season, this bread is available every day. Check the bread schedule in Edina, Minnetonka
and St. Paul for availability.