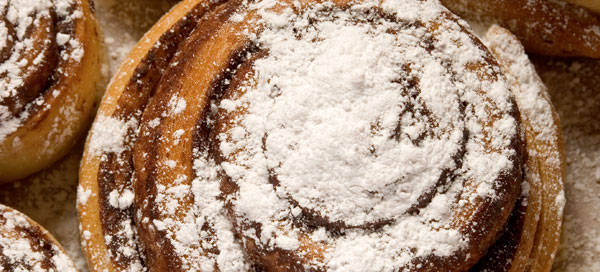 Chocolate Babka

Our famed Chocolate Babka makes a statement with swirls of cocoa and heavy dusting of powdered sugar on top. With a touch of almond extract and cinnamon, Chocolate Babka warms the spirit. Look for the Mini Chocolate Babka in ready-to-enjoy packaging on the counter when it is in season.
Serving Suggestion
Enjoy it in the morning (loaf or roll) or as a light dessert. It makes a great gift for the gourmands in your life.
Also Perfect for
Brunch
Snacking
Bringing to the office
Serving at a festive occasion
Gift giving
Nutrition Information for Chocolate Babka
Ingredients: unbleached-unbromated wheat flour, organic soy milk, granulated sugar, margarine, water, powdered sugar, cocoa, salt, cinnamon, yeast, vanilla, almond extract
Serving size: 1/2" slice
200 calories
7 g total fat
240 mg sodium
31 g carbs
1 g fiber
11 g sugar
4 g protein
Serving size: 1 roll
540 calories
18 g total fat
650 mg sodium
84 g carbs
2 g fiber
29 g sugar
11 g protein
Serving size: 1 mini roll
290 calories
10 g total fat
360 mg sodium
46 g carbs
1 g fiber
16 g sugar
6 g protein

Chocolate Babka loaves and rolls are made every day in Edina, Minnetonka and St. Paul.