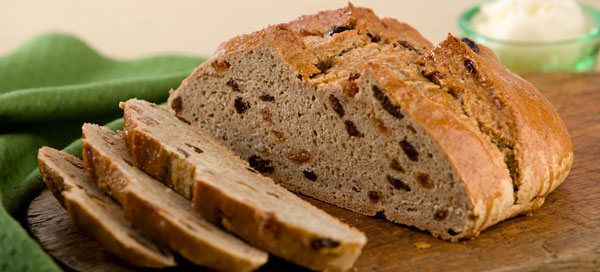 Irish Soda Bread

The Breadsmith version has raisins and golden raisins with oats and a touch of honey. This hearty, slightly sweet bread made with whole grains is very satisfying as a snack or for breakfast.
Irish Soda Bread has a long, storied history. Its roots are in the 1800s when soda first became available. Baking soda is used as the primary leavening agent (which makes the dough rise) as opposed to yeast and kneading, so it takes less time to make. In the past people would perhaps have added raisins or other dried fruit to the soda bread for a special occasion. Soda bread also does not require an oven (although Breadsmith uses one!)—it can be baked over a fire in a cast iron pot. In Ireland this would have been done over a turf fire.
Our Irish Soda Bread is available as a loaf or scone. You'll find it conveys the warmth of the Irish spirit!
Serving Suggestion
Also made in scones.
Also Perfect for
Toasting
Brunch
Passing with dinner
Snacking
Bringing to the office
Gift giving
Nutrition Information for Irish Soda Bread
Ingredients: organic soy milk, unbleached-unbromated wheat flour, whole wheat flour, oats, margarine, dark raisins, golden raisins, granulated sugar, water, baking powder, honey, salt, baking soda, apple cider vinegar
Serving size: 1/2" slice
170 calories
4.5 g total fat
200 mg sodium
28 g carbs
3 g fiber
7 g sugar

Irish Soda Bread is seasonal.
It is available every day in March in Edina, Minnetonka and St. Paul.