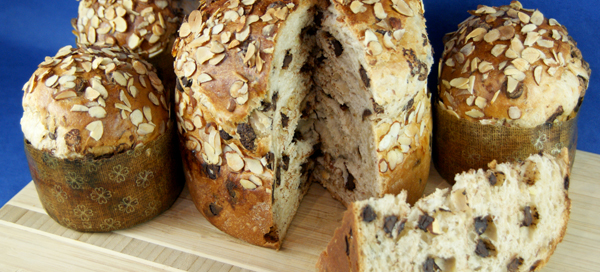 Chocolate Panettone

Breadsmith's Chocolate Panettone is light and sweet, just like the lore that surrounds it.
Panettone was created more than 500 years ago by a young Italian man when he wished to flatter his love interest. She was indeed impressed, as we think you will be when you try this bread dotted with chocolate pieces and almonds. It is baked and served in a charming paper baking mold, which makes it a special gift.
Get a regular or try a mini, which is perfect for two. An Italian delight!
Serving Suggestion
Cut into wedges and enjoy with coffee or tea.
Also Perfect for
Brunch
Snacking
Bringing to the office
Serving at a festive occasion
Gift giving
Nutrition Information for
Chocolate Panettone
Ingredients: unbleached-unbromated wheat flour, chocolate chips, water, organic soy milk, almonds, granulated sugar, margarine, organic eggs, sourdough starter, salt, pure chocolate extract, yeast, almond extract
Serving size: 1/2" slice
160 calories
7 g total fat
120 mg sodium
22 g carbs
2 g fiber
7 g sugar

It is occasionally available just before Christmas in Edina, Minnetonka and St. Paul.