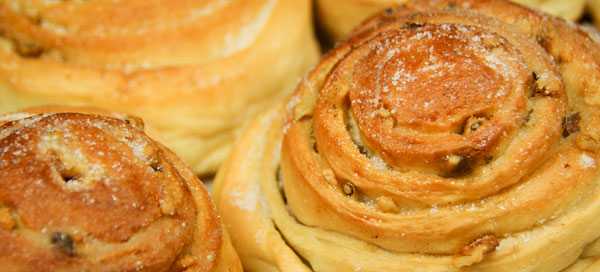 Walnut Babka

Walnut Babka has a coffee cake texture and flavor. It is sweet and nutty with citrus undertones. Itís delectable!
Serving Suggestion
This bread is versatile and can even be used in recipes to give an extra flair. Best in sandwiches or toasted.
Also Perfect for
Brunch
Serving at a festive occasion
Gift giving
Nutrition Information for Walnut Babka
Ingredients: unbleached-unbromated wheat flour, organic soy milk, walnuts, granulated sugar, margarine, water, cage free eggs, honey, salt, yeast, lemon extract, orange peel, lemon juice, lemon peel
Serving size: 1/2" slice
200 calories
9 g total fat
200 mg sodium
26 g carbs
1 g fiber
8 g sugar
4 g protein

Walnut Babka Loaf is available on the first Thursday of the month in Minnetonka.