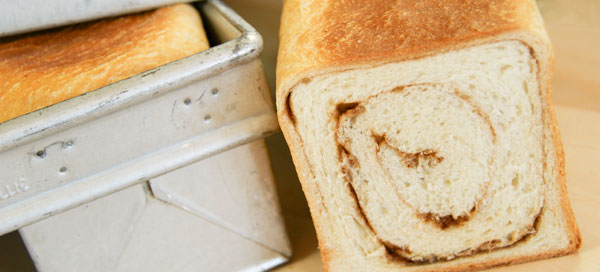 Cinnamon Swirl Pullman

Swirls of sweet cinnamon abound in our moist Cinnamon Swirl Pullman.
Why is it called Pullman? It is baked in a Pullman pan, which has straight sides and a lid. This results in a finer crumb and minimizes the amount of crust. It also creates a loaf that is perfectly symmetrical, which many find attractive. Historically this shape was also practical because loaves could be easily stacked in tight spaces, such as railway cars (Source).
Serving Suggestion
Try it for French toast!
Also Perfect for
Toasting
Brunch
Using in recipes
Snacking
Bringing to the office
Serving at a festive occasion
Gift giving
Nutrition Information for
Cinnamon Swirl Pullman
Ingredients: unbleached-unbromated wheat flour, water, brown sugar, granulated sugar, margarine, cage free eggs, salt, yeast, cinnamon
Serving size: 1/2" slice
170 calories
6 g total fat
250 mg sodium
28 g carbs
0 g fiber
9 g sugar
3 g protein

Cinnamon Swirl Pullman is available Wednesdays and Sundays in Edina and St. Paul and every day in Minnetonka.