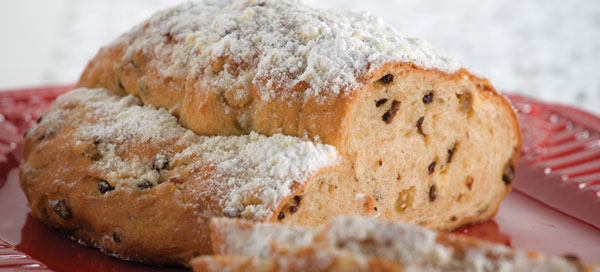 Stollen

Stollen, German holiday bread, is a favorite of many. Its dough includes golden raisins and currants soaked in rum, almonds and orange and lemon peel. It's a delicious tradition.
Serving Suggestion
Stollen is wrapped and ready for giving as a gift or for your holiday event. We can also ship Stollen for an additional charge (it stays fresh for up to three weeks).
Also Perfect for
Toasting
Brunch
Bringing to the office
Serving at a festive occasion
Gift giving
Nutrition Information for Stollen
Ingredients: unbleached-unbromated wheat flour, organic soy milk, margarine, golden raisins, currants, almonds, granulated sugar, organic eggs, dried lemons, dried oranges, rum, yeast, salt. Dusted with granulated sugar, powdered sugar.
Serving size: 1/2" slice
150 calories
6 g total fat
85 mg sodium
21 g carbs
1 g fiber
5 g sugar

Stollen is made in December.
It is available all December in Edina, Minnetonka and St. Paul.