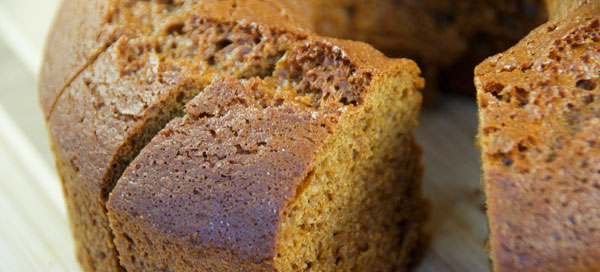 Honey Cake

Honey Cake is traditionally served during Rosh Hashanah, and the honey symbolizes sweet things to come in the upcoming year.
Our Honey Cake, which is baked in a bundt pan, is light and sweet with a hint of spice. Its flavors meld and deepen after several days on the kitchen counter.
Serving Suggestion
Serve Honey Cake for dessert.
Also Perfect for
Serving at a festive occasion
Gift giving
Nutrition Information FOR HONEY CAKE
Ingredients: rye flour, honey, granulated sugar, water, non-GMO canola oil, cage free eggs, baking soda, salt, cinnamon
Serving size: 1/2" slice (47g)
240 calories
8 g total fat
280 mg sodium
42 g carbs
0 g fiber
26 g sugar
3 g sugar

Honey Cake is seasonal.
It is available seasonally for the High Holidays. See the Edina, Minnetonka or St. Paul Bread Schedule for availability.