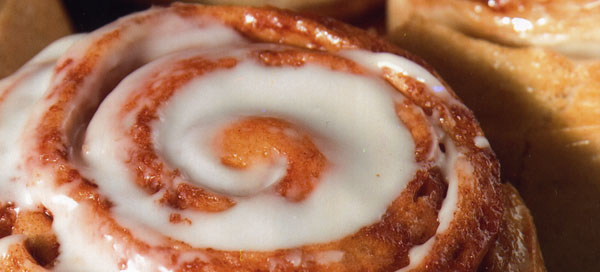 Cinnamon Bun

If youíre looking for something fantastically sticky and sweet, you have to try our Cinnamon Bun. Itís full of cinnamon spirals and topped with icing. Total indulgence!
Serving Suggestion
Serve with coffee or tea.
Also Perfect for
Brunch
Bringing to the office
Serving at a festive occasion
Gift giving
Nutrition Information for Cinnamon Bun
Ingredients: unbleached-unbromated wheat flour, water, brown sugar, margarine, organic eggs, granulated sugar, cinnamon, salt, yeast. Icing: powdered sugar, water, vanilla
Serving size: 1 mini or 1/2 large
310 calories
7 g total fat
260 mg sodium
39 g carbs
1 g fiber
16 g sugar

Cinnamon Buns are available Thursdays, Saturdays and Sundays in Edina and St. Paul and every day in Minnetonka.