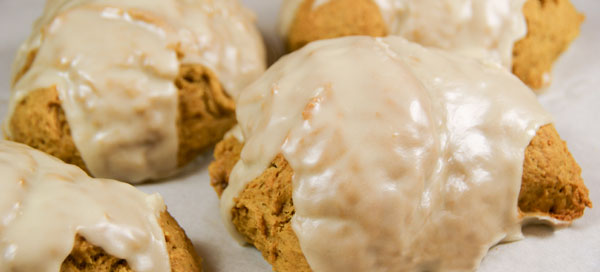 Pumpkin Scone with Orange Citrus Icing

Pumpkin with orange is not a classic combination, but itís definitely delicious. The nutmeg, ginger and cinnamon add just the right amount of spiciness, and the citrus in the icing adds a great brightness.
Serving Suggestion
Bring a box of mini scones to the office and watch the smiles!
Also Perfect for
Brunch
Snacking
Bringing to the office
Gift giving
Nutrition Information for Pumpkin Scones with Orange Citrus Icing
Ingredients: unbleached-unbromated wheat flour, brown sugar, organic soy milk, pumpkin, margarine, cage free eggs, baking powder, cinnamon, ginger, nutmeg, salt, baking soda. Icing: powdered sugar, orange juice, vanilla
Serving size: 1 scone
590 calories
14 g total fat
580 mg sodium
105 g carbs
1 g fiber
48 g sugar
12 g protein
Serving size: 1 mini scone
230 calories
6 g total fat
220 mg sodium
41 g carbs
0 g fiber
19 g sugar
4 g protein

Pumpkin Scones with Orange Citrus Icing are made from mid-October through December.
Check the bread schedule in Edina, Minnetonka and St. Paul for availability.