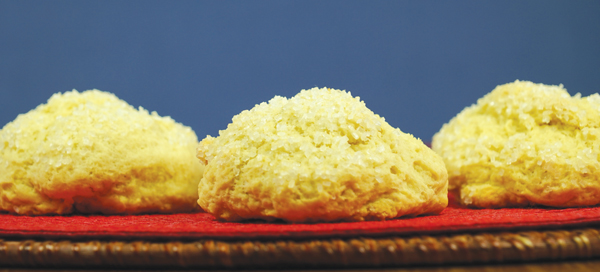 Traditional Scone

These classic scones have a biscuit-like texture and a buttery aroma.
They have a simple, pure flavor. A touch of sanding sugar on top adds a bit of a crunch.
Serving Suggestion
Enjoy the Traditional Scone with your favorite jam.
Also Perfect for
Brunch
Snacking
Bringing to the office
Gift giving
Nutrition Information for Traditional scone
Ingredients: unbleached-unbromated wheat flour, organic soy milk, margarine, granulated sugar, organic eggs, baking powder, salt, baking soda
Serving size: 1 mini or 1/2 scone
330 calories
13 g total fat
450 mg sodium
46 g carbs
1 g fiber
12 g sugar

Traditional Scones are made April–May.
When in season, the scones are available every day. Check the bread schedule in Edina, Minnetonka and St. Paul for availability.