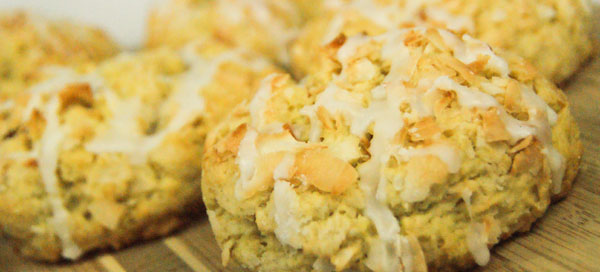 Coconut Scone

Calling all coconut lovers!
These scones have a copious amount of coconut. Large organic coconut flakes are mixed in the dough with coconut extract. Then the scones are rolled in coconut flakes before they are baked, and the flakes get lightly toasted. We then drizzle a vanilla-coconut icing over the top. They are perfectly decadent!
Serving Suggestion
Enjoy with hot or cold citrus-infused tea.
Also Perfect for
Brunch
Snacking
Bringing to the office
Gift giving
NUTRITION INFORMATION FOR COCONUT SCONE
Ingredients: unbleached unbromated wheat flour, organic soy milk, margarine, granulated sugar, organic coconut flakes, organic eggs, baking powder, coconut extract, salt, baking soda, vanilla
Serving size: 1 mini or 1/2 scone
335 calories
16.5 g total fat
470 mg sodium
41 g carbs
2.5 g fiber
11 g sugar

Coconut Scones are made February–May.
When in season, the scones are available every day. Check the bread schedule in Edina, Minnetonka and St. Paul.